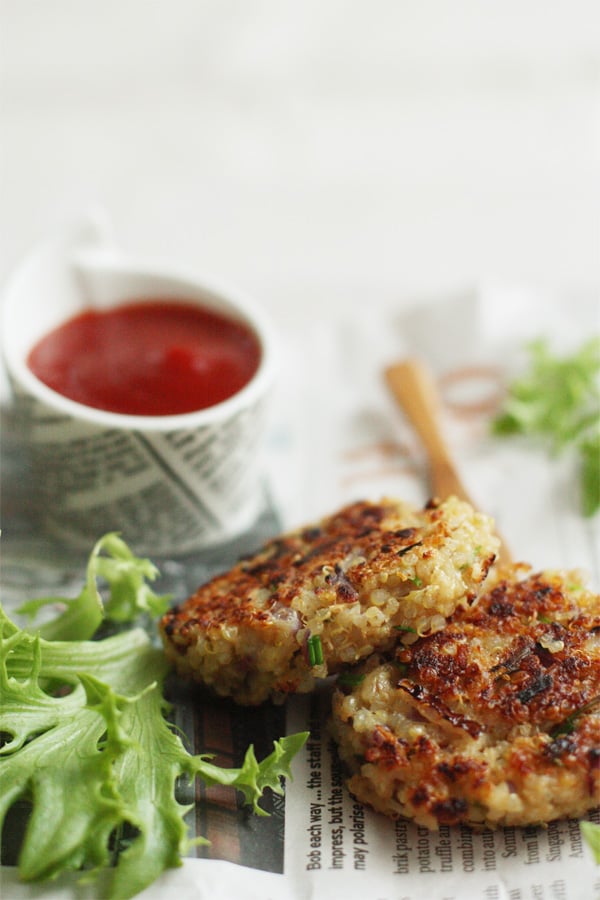 These were delicious! My husband and my toddler son loved dipping them in ketchup. I served this with a hearty garden salad (veggies and dip for my little boy) and it made a nice summer dinner for the family.
Ingredients:
2.5 cups cooked Quinoa (I used 1 cup dry Quinoa and ~2 cups water to yield ~2.5 cups cooked Quinoa)
5 eggs, organic, lightly beaten
1/2 Parmesan cheese
3/4 cup breadcrumbs
1/4 cup fresh Italian parsley, chopped
3 cloves garlic, minced
1 onion, diced
1 Tbsp fresh rosemary, chopped
1 Tbsp fresh oregano, chopped
1 tsp dried paprika
1 Tbsp flour
olive oil for pan frying
Directions:
Cook Quinoa according to package directions.
Place all ingredients in a large bowl and mix together until thoroughly combined.
Heat 1 Tbsp oil in a large skillet over medium high heat (oil should cover the bottom of the pan).
Shape small amounts of the mixture into patties using the palm of your hand. Place patties into skillet with heated oil (patties should begin to sizzle if oil is hot enough). Cook each side for 2-3 minutes until lightly browned. Continue to replace the oil as needed between batches for pan frying.
Serve patties with ketchup for dipping. Complete the meal with a hearty garden salad.