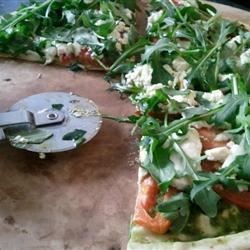 Yummy!
Ingredients:
1 tube of refrigerated whole wheat pizza dough
6 Tbsp prepared pesto sauce
4 oz goat cheese crumbles
1/2 cup shredded mozzarella cheese
1/2 pint cherry tomatoes, halved
2 cloves garlic, minced
2 cups fresh arugula
1 Tbsp lemon juice
splash of olive oil
Directions:
Roll/stretch pizza dough to desired size. Brush lightly with pesto sauce. Evenly top with a light sprinkling of the goat cheese and mozzarella. Add cherry tomatoes and sprinkle with garlic. Cook at 400 for ~10 minutes or until center is done and cheese is melted.
In a small bowl, toss arugula in a little bit of lemon juice and olive oil. Place this on top of the cooked pizza. Enjoy!